Read time: 15 minutes
They say hard work is a reward unto itself.
But for most marketers and business owners—you know, the kind with bills and a constant eye on their bank account—it's a lot more rewarding when work turns into results.
Let's face it: There're only so many pats on the back you can survive on when you're trying to build a brand.
Like, three. Maybe five tops.
Eventually, probably sooner rather than later, you need to take those pats on the back and turn them into concrete business results, or sales.
In other words, you need to build a unique brand that actually grows your business.
A quick Google search will bring you over 15 billion definitions of what people on the internet say a brand is.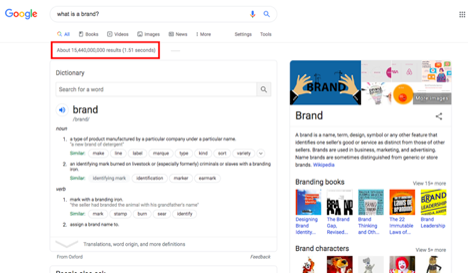 And, like most information on the internet, around 99.9% of them are unhelpful to you.
So let's define what a brand really is.
But before we do, you need to first understand that your brand doesn't belong to your marketing team or PR department, or even your CEO. Your brand exists only in the brains of your customers.
In a few words, a brand is the sum total of all the interactions a customer has with your business.
---
"A brand is the sum total of all the interactions a customer has with your business."
---
These interactions could be customer support calls, emails, social media, etc. Pretty much any physical or digital interaction your customers have with you.
And each of these interactions tells a tiny piece of your story to your customers.
If Tom believes your product is fresh and innovative, those attributes make up your brand in his mind.
If Lucy thinks your packaging is beautiful, she might think of your brand as cultivated and elite.
On the other hand, if your website takes forever to load, customers might think you're cheap or amateur. If your customer support is poor, you might come off as rude or difficult.
Marketing isn't just a department. It's the story of how you make your customers' lives better. The difference between a clever brand and a commercially successful brand comes down to three questions:
How concrete is your understanding of your target market, product or service?
How deeply do you know your customers?
Do you market yourself in smart ways?
This post teaches you how to answer these three questions and gives you the tools for what to do next.
Whether you've got nothing but a business idea or want to pivot your existing brand. Here's what you need to know about building a brand that gets real results in 2021.
Buckle up. Here we go.
Jump to a section.
Find your brand's niche.
Define your ideal customer and how you want to speak to them.
Invest in (the right) content marketing for your brand.
Generate new customers and delight current ones.
Find your brand's niche.
…and then absolutely dominate it.
A ton of businesses offer a broad variety of products and services. But they struggle to become a market leader for any of their offerings.
Is it possible to go too niche?…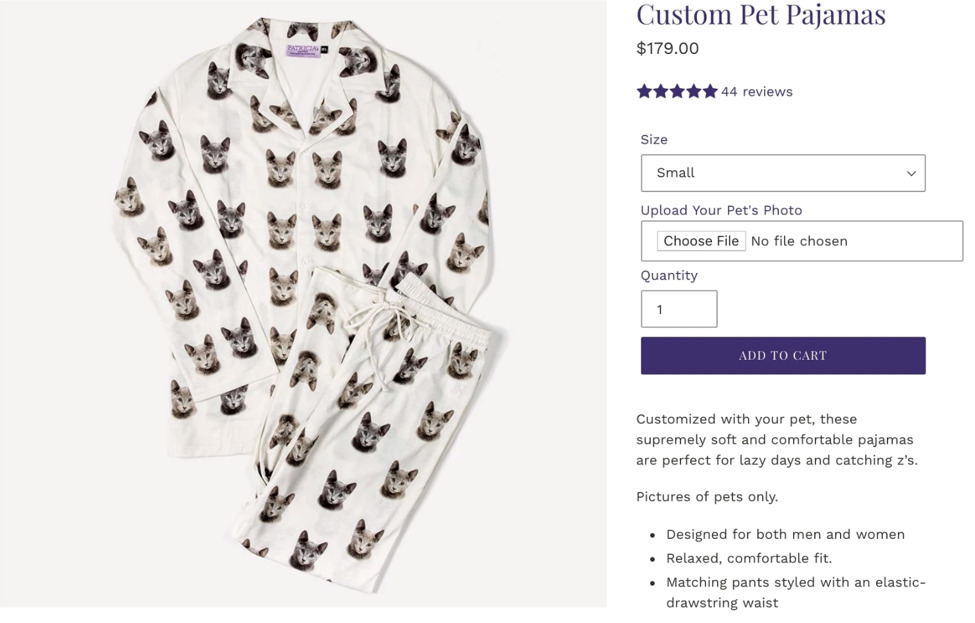 …I'll let you decide (but before you do, be sure to check their earnings report).
Instead of targeting a broad population, you should focus on a smaller, more specific segment of potential customers. This gives you the opportunity to become the best at what you do.
You won't get there by doing field marketing, CRM software, copywriting—and massages and drum lessons—all at the same time.
You're better off concentrating all your efforts on a small, well-defined segment of your target audience.
In other words, specialize, don't generalize.
You don't have to get this specific, but Lefty's dominates the lucrative, super niche left-handed scissors market we've never even heard of.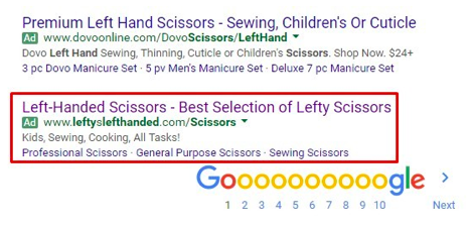 If you're looking for a niche or are looking to rethink or refine your current business niche, you'll want to take the first step of choosing a niche in a well-planned and systematic way.
This is where most people fall off the wagon.
You shouldn't make finding a niche market harder than it needs to be. But it's more important to not rush the process.
Chasing trends might give you some short-term wins. But that won't help you build a long-term brand that customers choose on a consistent basis.
Criteria to Help You Identify Your Brand's Niche
Your niche selection can make or break your brand. When finding or refining your niche, you should target markets that meet the following criteria:
A good niche:
Lots of sales.
Relatively low amount of customer service needed.
High profit margins.
Not too much, but some competition.
Now, following these criteria to the tee isn't required to finding a profitable niche market, but it will yield the most consistent results.
On the other side…
A bad niche:
No sales, or many problematic sales.
Tons of customer service needed.
Small profit margins.
Overabundance of competition.
When researching your niche, you might find several similar products, but not an overabundance. This shows that your brand idea might be profitable. It gives evidence that consumers are buying products from brands in that niche.
A great place to start is Amazon. They've done the research for you and update their best selling products in real time. This shows you exactly what people are searching, clicking, and whipping out their credit card for on an hourly basis.
Here's a screenshot from NichePursuits: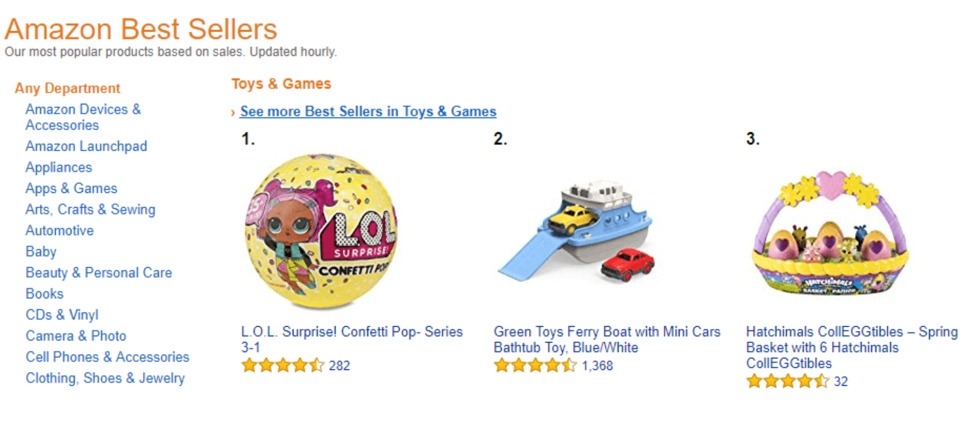 If you're curious about ideas, log onto Amazon Best Sellers right now and check out what the top sellers are in your niche of choice.
Another thing, have you ever noticed the suggestion engine in Google Search? These spots are where the majority of people find the product information they're looking for, so it's important to drill down on your niche at the right times.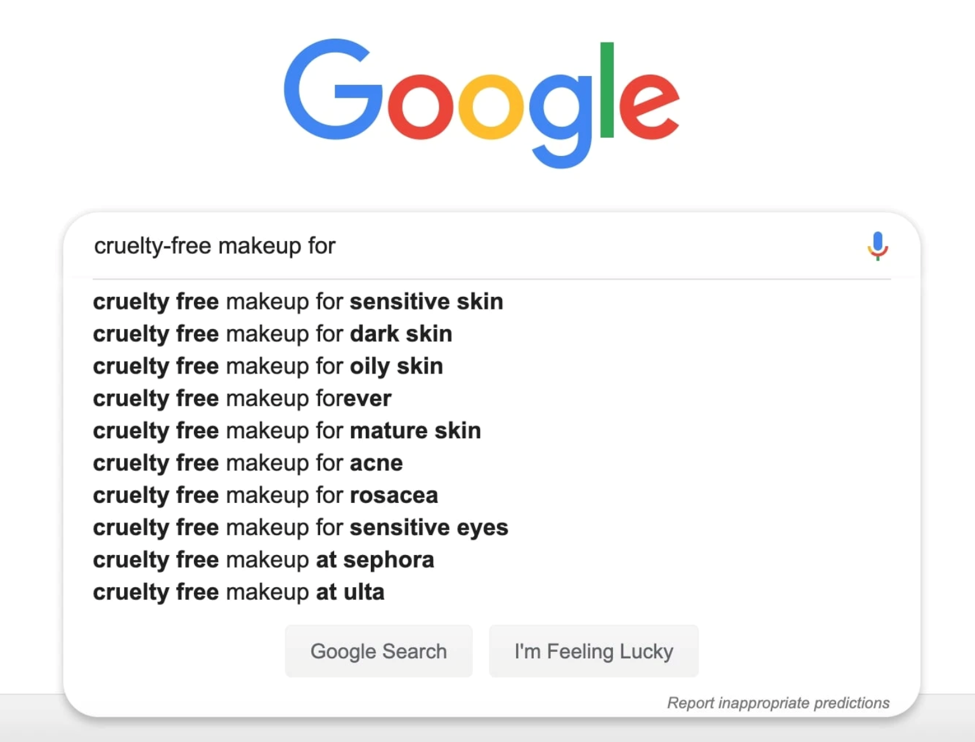 Define your ideal customer and how you want your brand to speak to them.
How well do you really know your customers?
The biggest barrier to building your brand is usually the lack of a deep, detailed understanding of the target customer.
If you're trying to optimize your customer experience, create better content, write copy or generate more leads, knowing your customer is key.
This means you get to dig around in their heads and figure some things out about them.
What are they interested in?
How old are they?
Where did they go to school?
Do they have kids?
What does a typical day look like for them?
These questions might sound specific, but here's the thing…
Creating very specific buyer personas can dramatically improve your business results.
According to Neil Patel's blog:
---
"Many marketers make the mistake of using generic demographics like age, profession, and location to develop their buyer personas. These data points simply don't provide enough information to create messaging that resonates with your audience on an emotional level."
---
If you don't know the answers to questions like these, it'll be hard to create an effective marketing strategy. Your goal is to educate, help and delight these people.
What do you do?
Create a robust buyer persona.
Here's an example we found on the Alexa Blog: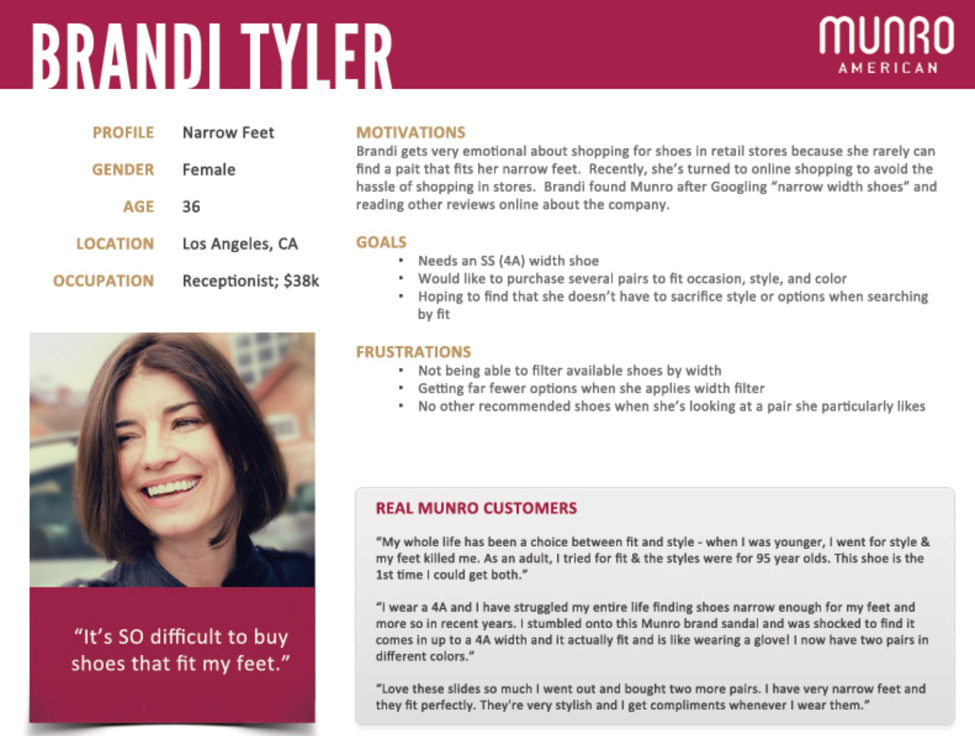 This buyer persona by Indie Game Girl uses little blurbs to personify their target customer, Brandi. The persona brings them through her shoe buying process, and details her frustrations and hesitations along the way. It even includes direct quotes from real customers.
Grouping people into persona categories makes it easier to tailor your content, messaging and copy to support your brand.
This B2B example from Suddita Yang's blog includes a personality and technology scale that rates her knowledge and character.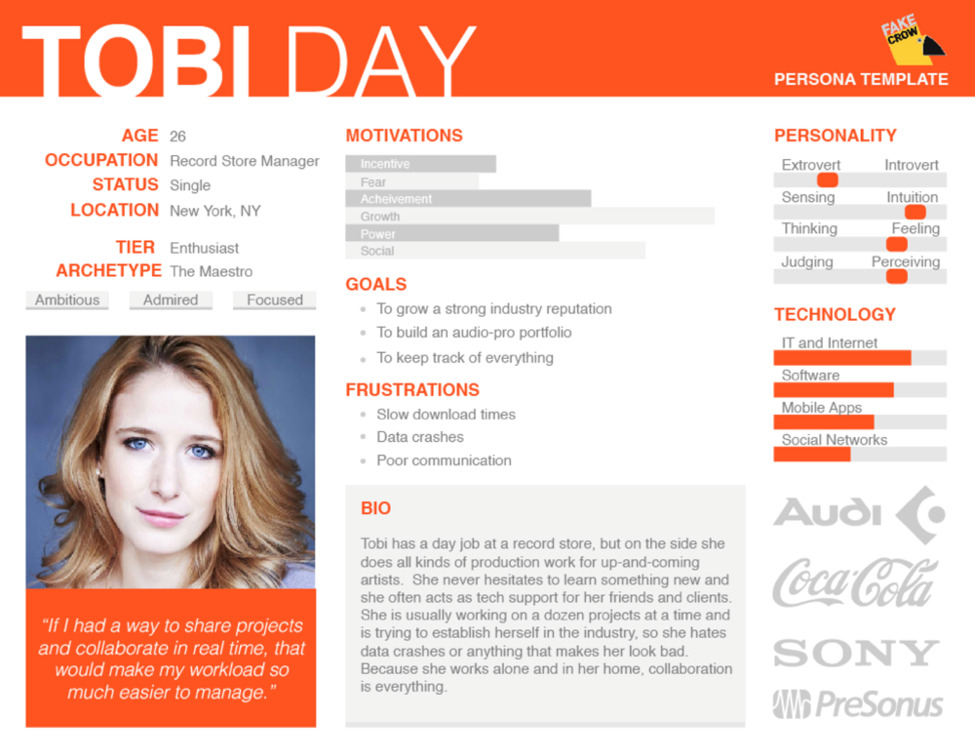 It's important to understand that these personas don't belong just to the marketing department. Give your persona to every member of your business—sales, product, customer service—and implement it across your entire funnel.
How can you use buyer personas?
When combined with buyer journey (how far along someone is in your sales lifecycle), you can create highly targeted content.
For example, instead of sending the same promotions to everyone on your email list, you can segment by buyer persona. This lets you tailor your messaging based on what you know about those different personas.
Use your well-researched persona to determine their buying behavior and what challenges they want to overcome. This'll give you a deeper understanding of how your business can provide value to your niche market.
Why?
Because different people want different things.
Would you target a product to 13-year old the same way you would target a product to a 25-year old?
Of course not.
On top of that, we live in a world where people see an estimated 4,000 to 10,000 marketing messages every single day. That's why learning your audience is vital to building a brand that customers love.
Invest in (the right) content marketing for your brand.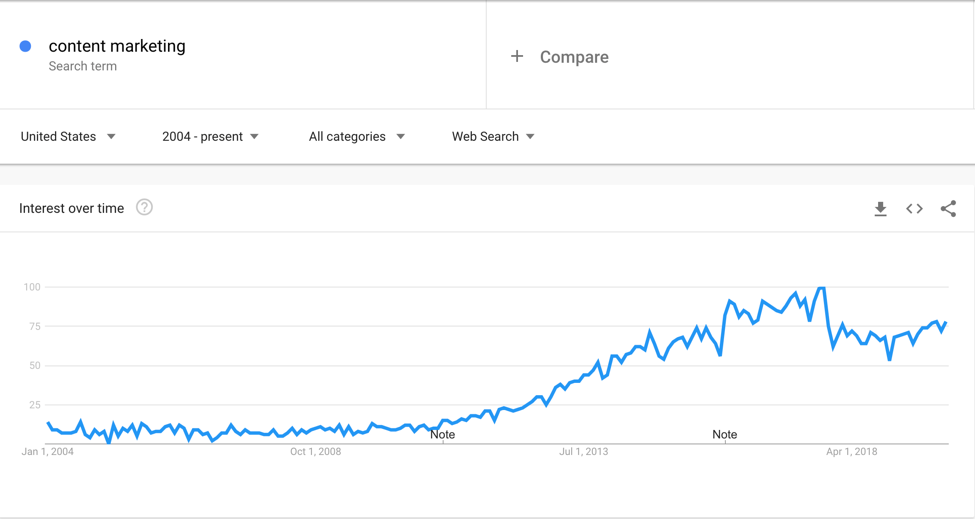 The online marketing world has matured, and it still is. It's safe to say that:
People don't want to be "sold" when making a buying decision—they want valuable information (content).
Valuable information (content) is what spreads on social media, which generates powerful word of mouth for brands.
Valuable information (content) is what people seek out online, and it's valuable information that Google ranks well in the search results.
Valuable information (content) is the best way to get people to understand, like, and trust your brand.
If you're interested in building your business's brand online (and if you aren't…?), you've heard the term "content marketing." It's everywhere, and soon to achieve buzzword status (if it hasn't already).
But how can content marketing actually help you build your brand? What makes it different from what you're already doing?
Marketers spend 62% less on content marketing than traditional marketing, but generate 3x more leads from it!
---
Marketers spend 62% less on content marketing than traditional marketing, but generate 3x more leads from it!
---
That's why it's no surprise that content marketing is now a $300 billion industry.
To be clear, I'm not saying content marketing is the only way to grow your business. But it's a channel you should pursue to grow your brand in a cost-effective way that's proven to get results.
So brands need to get with it. Otherwise, they'll risk lagging behind their competitors who are using it.
Which brings us to the question: How can you create valuable content to build your brand?
You can't always rely on outsourcing if you want high quality. And you should want high quality.
Quality. Over. Everything. 
Almost 9 out of 10 of businesses use content marketing today. But the ones who use it in effective ways? Not so easy to find.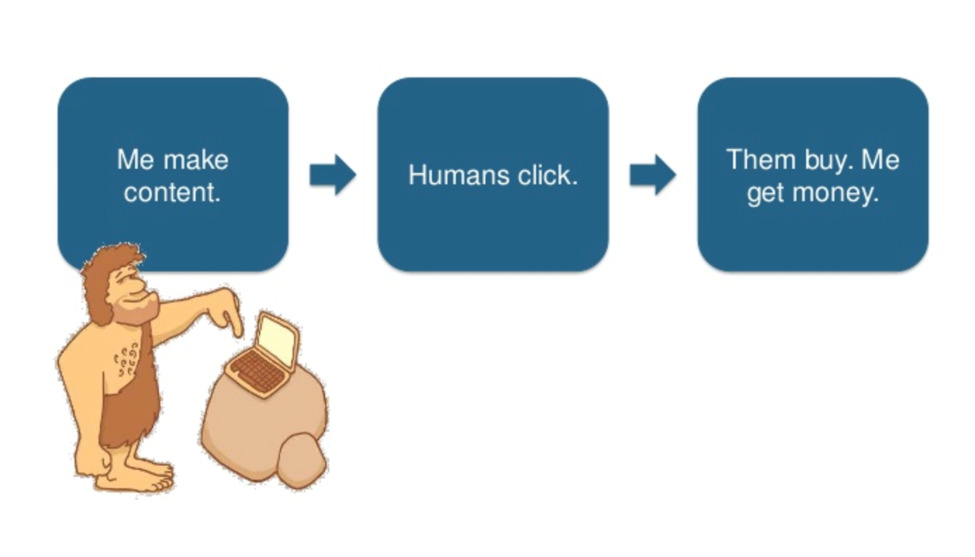 The best content marketers:
Clearly explain the benefits customers will get if they use their app.
Write compelling calls to action at the end of each online promotion.
Create helpful videos that explain the service they offer.
Write captivating articles that solve their customers problems and fill in their knowledge gaps.
And here's what I mean by invest in your content marketing:
You know all the blood, sweat, and tears you put in to promote your product or service. (In other words, the features of your business.)
You know in detail what happens behind the scenes. But your customers might have no interest in the mechanics of your business. They may care deeply about other things that are barely on your radar.
In the book Made to Stick, Chip and Dan Heath provide an example:
"Think of a lawyer who can't give you a straight, comprehensible answer to a legal question. His vast knowledge and experience renders him unable to fathom how little you know. So when he talks to you, he talks in abstractions that you can't follow. And we're all like the lawyer in our own domain of expertise."
It's tough to move from features to benefits because it's hard to be objective about marketing your business.
Sometimes a pair of outside eyes can be the perfect thing to communicate the most important benefits to customers. Your business's winning difference might be something you overlook, but your customers find wildly useful.
That's where hiring a professional writer can help [keyword: professional]. Preferably a specialized one. Not your cousin's friend who wrote a vegan recipes blog once.
Good writers know how to remove themselves from a story and keep it about the reader, who in your case is a customer or lead.
They understand marketing. They can write scripts for product videos, persuasive website copy with CTAs, thoughtfully researched blog posts, in-depth case studies and white papers, and any other marketing collateral you want to leverage.
But make sure your writer is looking at customer feedback as much as possible.
This could be feedback from interviews, Amazon reviews, social media listening, or survey responses. Analyzing this data lets you pull out useful little nuggets of information you can use in your copy.

As long as they have direct access to real customer language about why people like buying from you or doing business with you.
Most companies who do content marketing right increased both the quality and quantity of leads.
The key takeaway: mastering content marketing and working with experts gives you the tools to stand out amongst the millions of me-too content pieces published every single day.
BUT:
One thing to know about content marketing is…
It takes a massive amount of time and energy up front for a return that's not immediate.
Former CEO of WordStream explains the concept of the flywheel effect (I know: science!).
When Larry was starting out and building his audience, it took him six years to generate just 12,000 followers. But once he had put out enough quality content and hit WordStream's tipping point, the growth accelerated.
Just one year later, his following grew by 50,000.
This perfectly demonstrates the flywheel effect: It took a huge investment of time for Larry to get the flywheel moving, but once the momentum built up significantly, it set the flywheel in motion and produced disproportionate returns.

Larry's story paints the picture for content marketing. The vast majority of blogs and companies give up on content marketing before they can gain the momentum needed to experience the benefits they envisioned in the first place.
In the figure above, it took two years of daily blogging before the site saw a real traffic lift. But once the content marketing strategy paid off, the results were awesome.
Generate New Customers and Delight Current Ones.
Your brand's identity attracts people who agree with what your business has to offer. But once they do become loyal customers, use that same brand identity to give them a sense of belonging. This'll move them from customers to advocates.
Like content marketing, this will take some work.
Like we talked about, tailored content for your marketing is going to be key here. But where should you be sharing this information? Will it just sit on your blog and never leave?
This is where you, the savvy marketer, can use social media and brand ambassadors as your ultimate business tools.
Brand Ambassadors
Not all of your promotion has to be online. Brand ambassador teams can set up booths at events and in city squares to distribute your marketing materials.
You might have a new protein shake tasting stand outside a local fitness complex. Your brand ambassador team could pass out samples, flyers, and nutrition information.
Using this type of strategy can grow your brand by bringing it offline and giving customers something tangible. You physically engage your audience by getting them involved. This works especially well if you have a lifestyle or entertainment brand.
Red Bull kills it with their famous "Wings Team". They travel to cities and sporting events across the world to pass out free samples and promote their brand.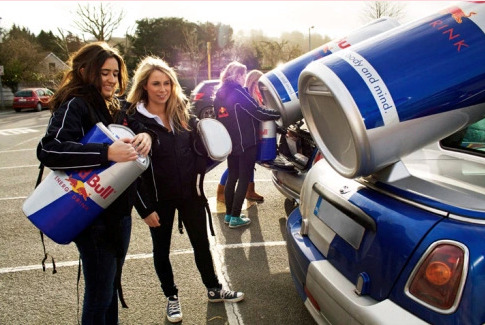 Marketing has always been about knowing who your brand is for, and then figuring out how to align your product with their desires. There are so many marketing channels to use. But word of mouth always works, and that's exactly what brand ambassadors do.
Social Media Content
Content on social media can delight your current customers and place new ones into the sales funnel. Learn which channels your customers use and the type of content they want to engage with (see: buyer persona). Then give the people what they want.
The breadth of online platforms gives you a ton of space to build your brand identity.
Social media is also a spot to talk directly to your customers. If you're mentioned on Twitter or tagged in a Facebook post (especially if the customer has an issue or question), be sure to make that brand interaction a worthwhile one by responding promptly to your customers.
If you have an event coming up, for example, the first thing you should do to promote it is to create a Facebook event page.
Facebook events are one of the best and easiest tools to use. They'll help you use Facebook's traffic to spread the word, give your audience valuable information, interact and respond to their questions, and accumulate social proof.
This means more visibility for your brand. When people see their friends attending, they'll want to check it out too.
Comedian Jim Gaffigan's team creates Facebook event pages for every one of his shows.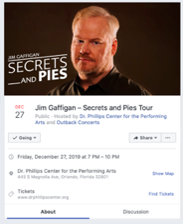 Another example is Chipotle, who used meme humor to describe a familiar situation.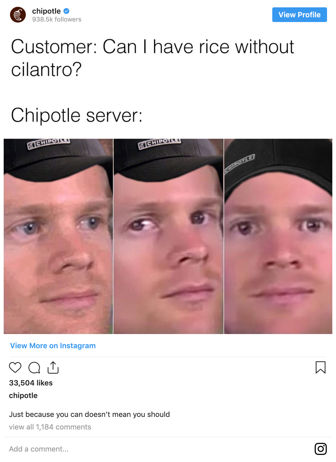 Humor can delight!
Connection & Emotion
People are wired to love stories. Better yet, people love stories that inspire them to take action. Building a strong brand identity can establish the emotional connection to inspire this action. This could include sharing your articles on social media, signing up for your email list, or purchasing your product or service.
Customers will be your very best allies when it comes to building your brand. After all, it's in their heads where your brand matters after all.
Ready, Set, Build your Brand
Remember, and this bears repeating, a brand is the sum total of all the interactions a customer has with your business. It's that intangible feeling your customers get when they interact with your business. It's their experience.
That's what separates the professionals from the average. The hard components all contribute to this — beautiful logo, snappy copy, well-written blogs, a user-friendly website design–but brands thrive when they know who they're selling and speaking to. Get to the heart and soul of your audience and your business niche, and the brand will follow.