Hey guys!
I'm Romain, the newest member of the SimpleCrew team. I'm French, and I'm very excited to work with Alan and Mike! I'll be in charge of the new business opportunities here in Chile, so wish me luck 🙂
Today was the first day of Start Up Chile Progress Day, where we all had to pitch our current business activities – what we've done so far and what is left to do during our 6 months here. SimpleCrew went 42nd out of 50, so we had to wake the crowd up after the passionate but long series of presentations of our fellow suppers! So Alan started by a demo of a example campaign with a photo of the room, and it went well 🙂
Here are the slides from SimpleCrew's presentation. Check it out!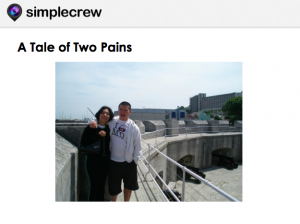 The idea for SimpleCrew came when Alan and his mother realized they shared a similar pain in their respective jobs – Alan as a brand manager of Red Bull and his mother, Tara, as a agricultural scientist for the USDA.
Tara and her team used photos to track the progress of research experiments in the field, and Red Bull's team used photos to track the progress of marketing work in the field.
They were both using point-and-shoot cameras, and then transferring files or sending emails with their teams to sync-up photos. It was a mess, and with mobile, they realized there was a better way.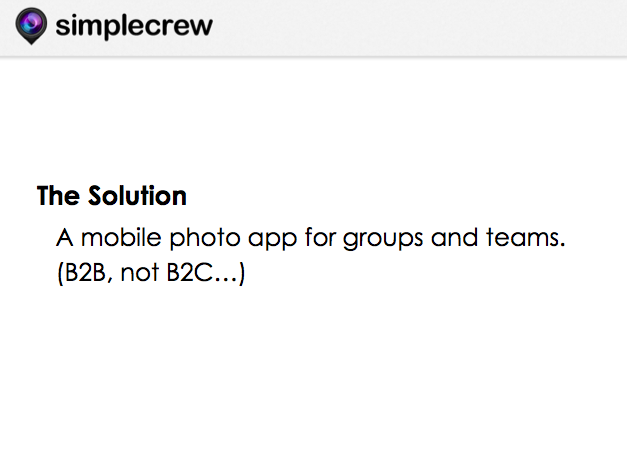 The SimpleCrew solution is simple – a mobile photo app for teams. For a live demo, we took the photo of the group and showed the photo on the SimpleCrew campaign, check it out SimpleCrew Start-Up Chile Live Demo
We then walked through three examples of photo campaigns from some SimpleCrew customers.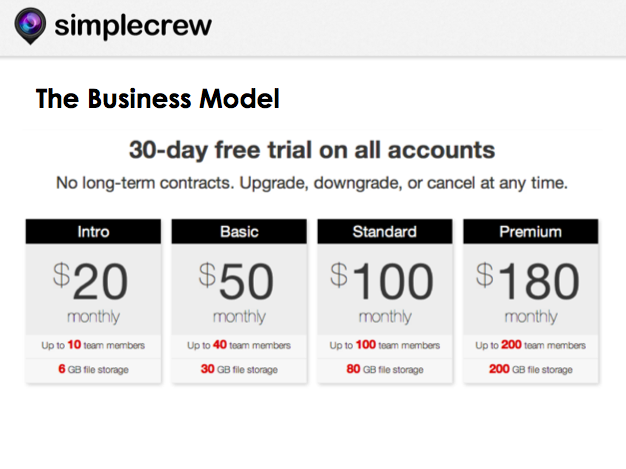 As for the business model, here are the 4 different subscriptions that we offer ranging from $20/month to $180/month, depending on how big the teams are.
So far, we've been able to have 9 paying customers, up from 7 since the start of Start-Up Chile. Our goal is to reach 60 by October with big expectations for the Chilean market!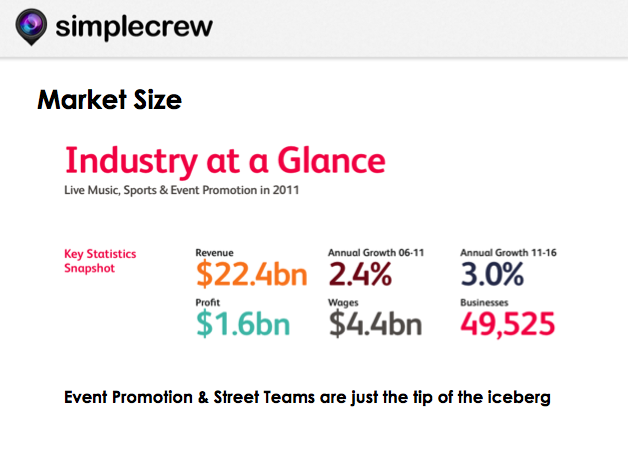 Then we showed this market size slide that included a great stat – 49,000+ businesses in the Live Music, Sports, and Event Promotion industry in the United States.
If we maintain an average revenue per customer of $50/month, we'll be a $1MM/year business when we reach 1,667 customers.
And event promotions are just the tip of the iceberg, there's plenty more use cases for SimpleCrew!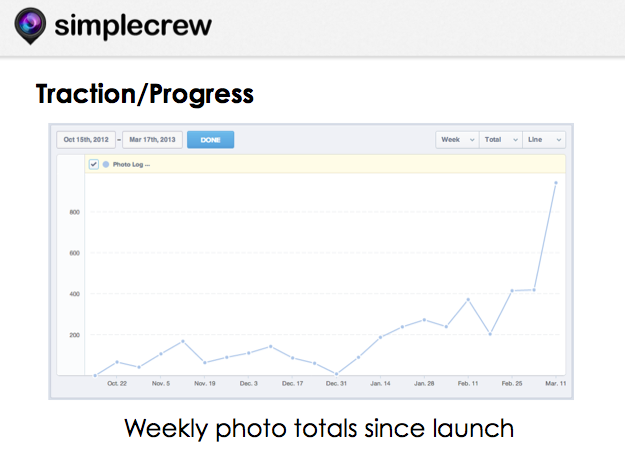 We can see from this graph huge rises in the number of photos uploaded per week with more than 1000 photos uploaded last week! We look forward to seeing the future results!
Due to critical bug issues after the iOS 6 release, we also initiated a fully native mobile app development for iOS and Androïd with new features and higher "fluidity" in the apps.
This is it for Start Up Chile Progress Day, thanks for reading!
Romain