It's been a long time coming. After months of design, development, testing, and feedback, we're happy to share with you SimpleCrew – the best damn way to manage field teams. Period.
With SimpleCrew, we're going to make your team way more effective and more accountable. We're going to save your team ridiculous amounts of time and energy. And we're going to do it with style.
Why? Because the old way sucked! We've been there. We've felt the pain. With SimpleCrew, the difference will be night and day. Here's how.
Businesses today are using photos from the field in a million different ways. Here are a few:
Grassroots marketing teams use photos to track and document team progress in the field.
Team managers compile these photos into reports to keep teams accountable and to report work to their bosses or clients.
Real estate rehabbers use pictures to prospect new properties in the field.
Construction project managers use photos to document work being done on properties.
Outside sales teams use photos to track their product placements in retail outlets around the region.
Creative professionals use photos to capture inspiration and for visual note-taking.
These are just a handful of examples, but you get the picture. Countless businesses and organizations are using photos to communicate and document their operations "outside the building". Are you one of them?
Before SimpleCrew, these teams had to rely on messy combinations of photo uploads and downloads, email attachments, desktop folders, and excel spreadsheets to keep everything organized. There were time delays while managers waited for cameras to get back to the office. There were syncing issues, with no easy way to make sure everyone had access to the same folders. Simply put, sending and coordinating photos across a team was a huge pain in the ass.
Does this sound familiar? If so, SimpleCrew is here to help.
Today, using SimpleCrew, teams can now upload photos via our iPhone and Android apps directly to the team's database hosted securely in the cloud. It happens instantly, so team members don't have to worry about sending emails or uploading photos later. And every photo includes time and location info, so teams can see organized campaign summaries with timelines and maps showing exactly when and where each photo was submitted from.
The headaches of the old way will be a thing of the past. It's a beautiful thing.
Web dashboard: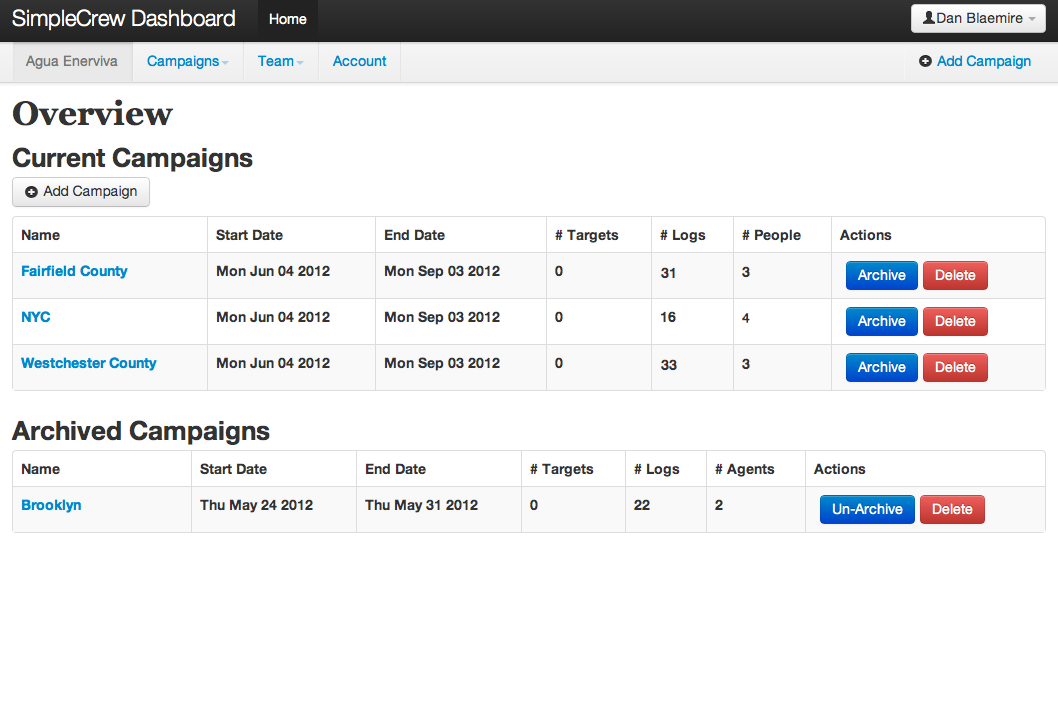 Campaign Timelines: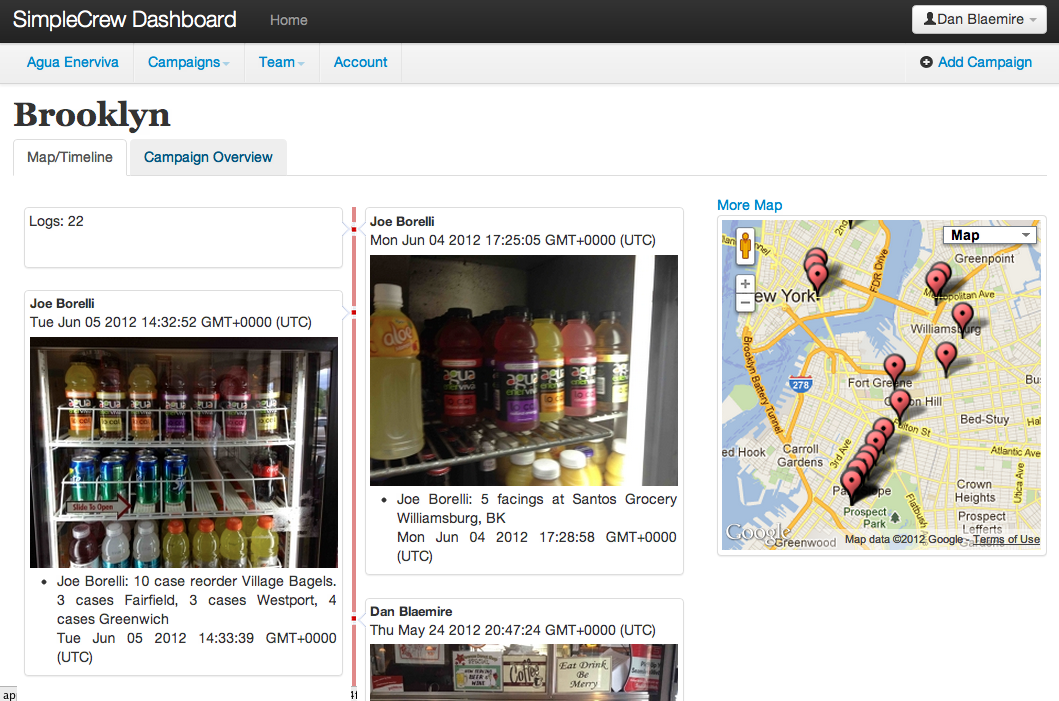 Campaign Stats/Overview: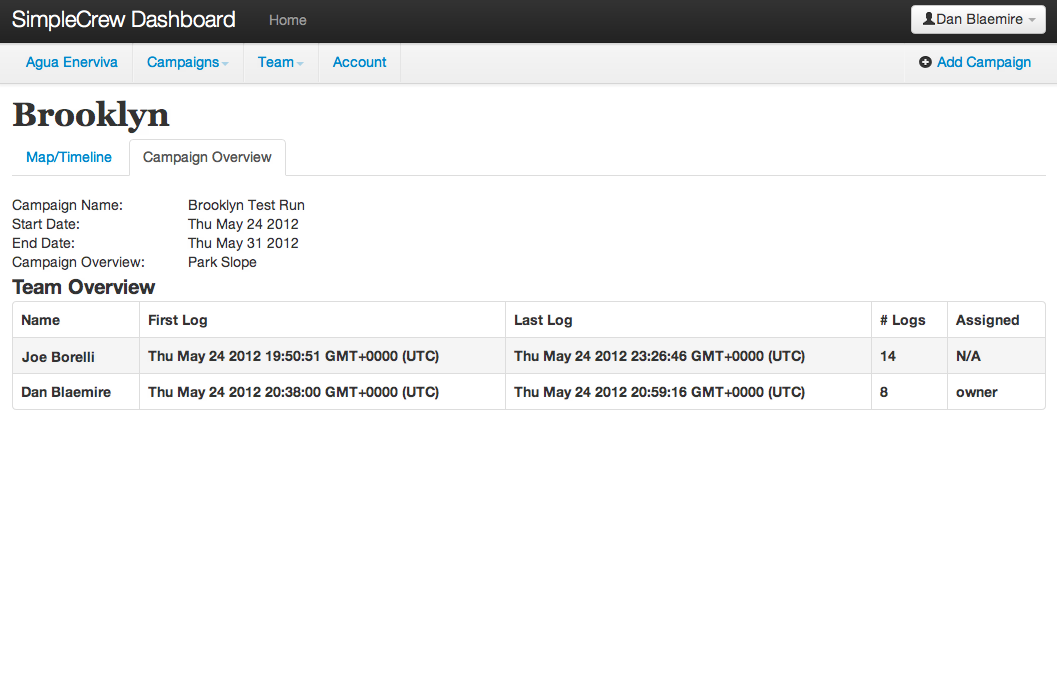 Mobile App
(We're in the App Store and Android Market)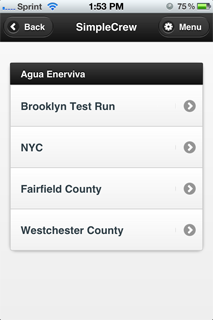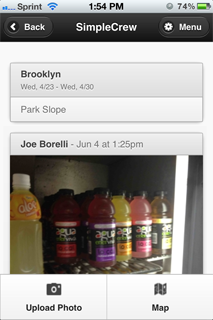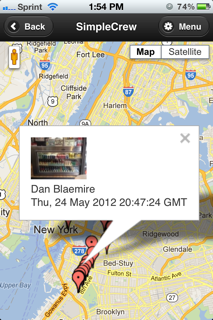 Try SimpleCrew Today, Free.
We built SimpleCrew to be the ultimate web and mobile collaboration tool. Our mission was to make the best solution for teams to share and collaborate using photos, and to make it simple and easy to use. With SimpleCrew, we've done just that.
We're so sure you'll love it, we're going to give it to you free for a month before you buy. No credit card needed. Don't like it? You don't pay a dime, no cancellation or action necessary.
Sound good? Come try it for yourself. The difference will be night and day.