If you want to hire a good yard sign placer quickly, then this is the best place to start.
In this 'down-to-earth' guide, I've laid out an easy process on how to hire a sign placer from beginning to end.
You'll uncover some interesting tips, such as … the secret behind how to not get "screwed over" by your sign placer on their first job.
And how to make the interview process fast and painless. So that your sign placer can start working asap.
In the later parts, I'll show you a swift way to filter out your applicants and cherry-pick out the best candidates.
(In a second, we'll dive head-first into the guide.)
Co-founder of SimpleCrew, a software you probably never knew existed.
For the past 9 years, I've helped business owners track and manage their sign placers.
My goal here is to save you time and get you back to doing what you love to do most.
This guide is broken down into 4 easy-to-consume sections:
Part I: How to Quickly Find a Good Yard Sign Placer
Thanks to the internet.
You can hire a good sign placer in a single afternoon and have 'em place your signs by tomorrow morning.
To hire a yard sign placer, where would you go?
You might've heard of Indeed, SimplyHired, ZipRecruiter, or even LinkedIn.
Scrap that.
Avoid those like the plague.
In fact, this is a better website that'll give you access to a horde of hard workers at an instant.
Don't take my word for it. You probably heard it already. It's called:
This website is the BEST site for finding part-time jobs and gigs. So, if you're under time pressure, you'd be more likely to find a good candidate fast on that site.
Now if you're concerned about the quality of applicants, then in the next section, you'll see how I can get you more qualified applicants than you can dream of.
Many of our clients have found "honest, hard-working" people on this site.
I won't spend any more of your time on this.
Let's get straight to the point.
Part II: Our 5 rapid-fire steps to attract a yard sign placer on Craigslist
When we're looking to hire sign placers, Craigslist works the best.
After all, it's the most popular website for finding part-time jobs and gigs.
Go to www.Craigslist.org
Click on the "create a posting" link on the main page. This will let you easily create a job post for an entire city to see.
The image below shows you where to find that link.
Select the "gig offered" option. It's the best option to choose when you're first starting out with Craigslist.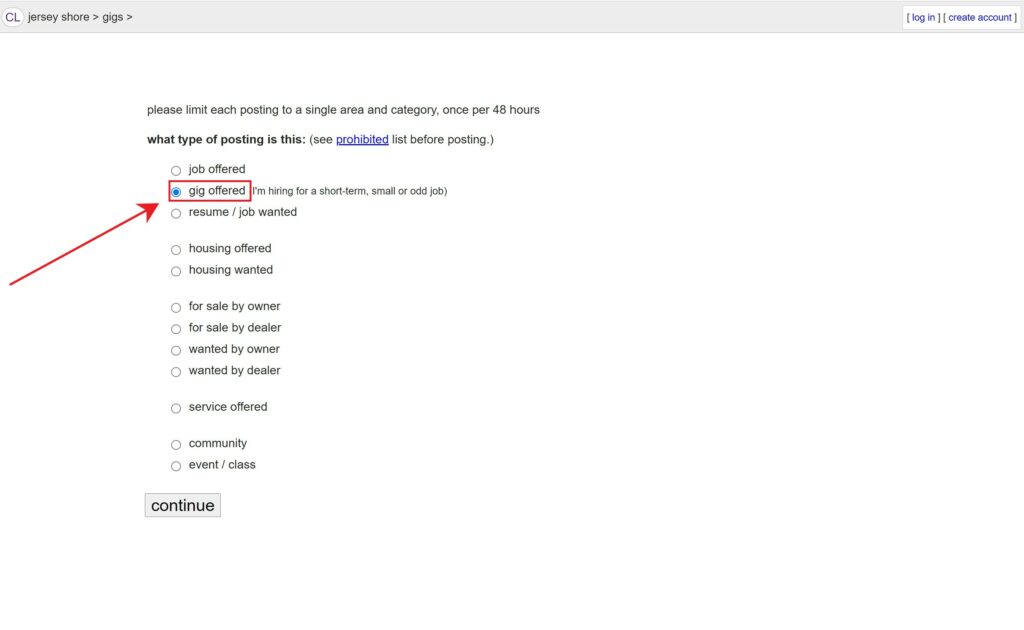 Then, choose either the "event" or "labor" option. From our experience, both of them can attract good sign placers and get you the best results.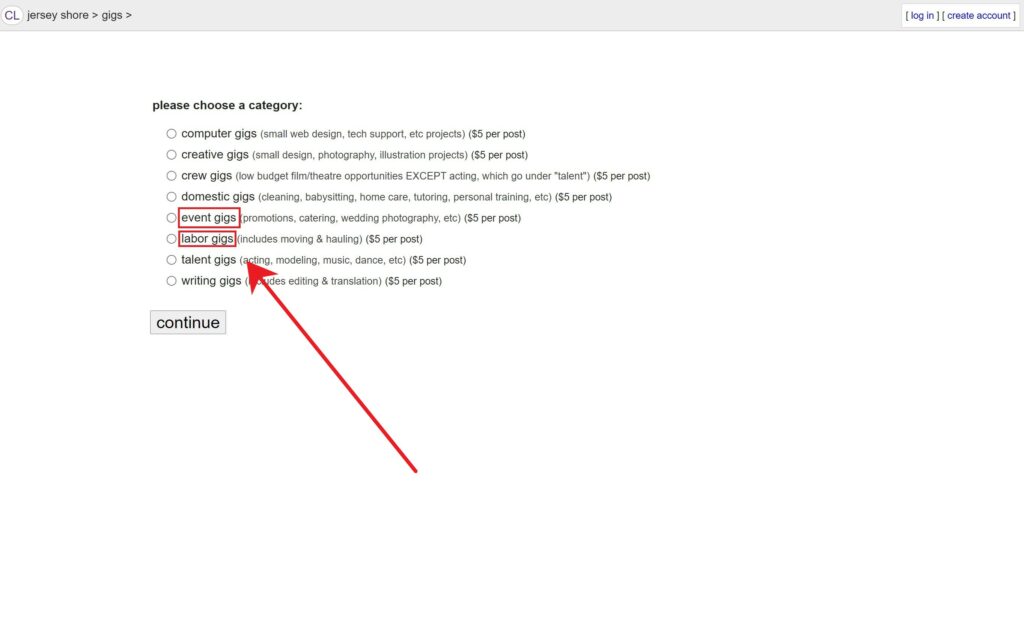 Describe your ideal candidate into the description section of the job post.
You can begin by writing out a list for what it takes to complete the sign placement job for your business.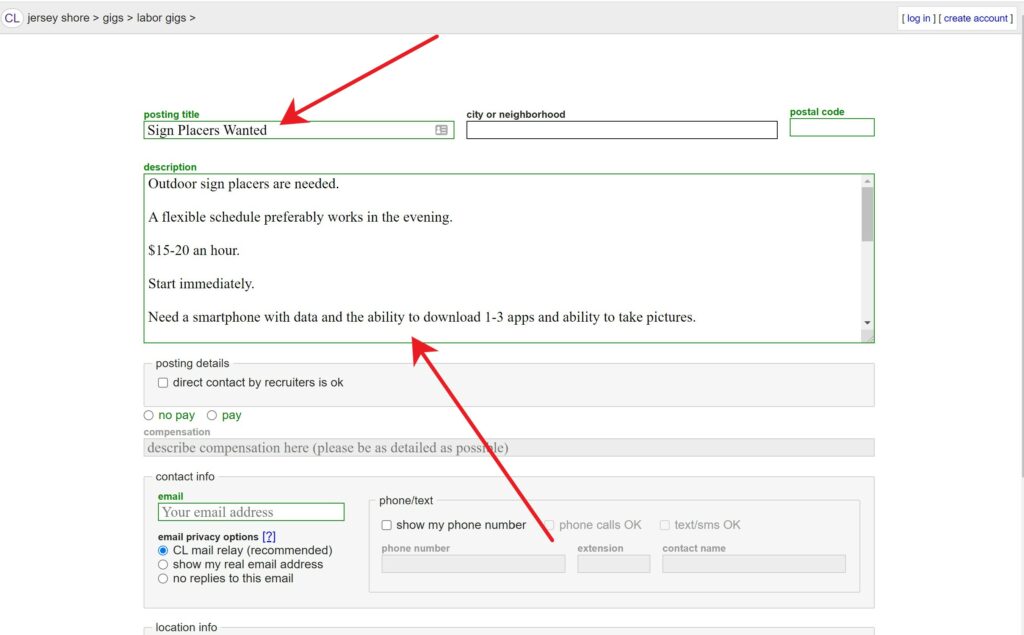 (Feeling Stuck? Skip this step. Snag our flexible Job Post Template for hiring yard sign placers. Copy & paste it quickly. Works regardless of your niche.)
Once you finish filling out your personal details, you can submit the post.
You're done! 🙌
Sit back and watch the applicants roll in.
Part III: Quick 'n' Painless Interview Process
So, if you followed everything above, then your job post is out there fishing for some candidates.
And in no time, you'll get a decent number of responses to look over.
A rule of the thumb:
Don't judge a book by its cover!
It's an overused cliché, yes.
But, in my ten years of hiring employees, I found that a "good and honest" worker can come in any age, skin color, or education level.
That said, it's tempting to judge when you get some bad replies:
"r u you still hiring?"
But assuming you did have a handful of good replies …
What should you reply with?
You can text them back, call them, or video chat.
Regardless of the medium you choose, you must ask them 'screening questions'.
This way you can filter out the bad candidates from the good ones.
Here are important screening questions to ask any potential sign placer:
Which city do you live in?
Which cities in your area are you available to work?
Do you own a Car, Truck, Van, or large SUV?
Do you have a qualified backup to run signs in case you are unavailable?
Have you done sign placing before?
Why are you interested in this job?
Can you meet our schedule consistently?
When you're evaluating those questions, make sure you follow this checklist to avoid choosing the wrong person:
3-point 'fool-proof' checklist for picking the right candidate
Chances are, if you're looking for a sign placer, these are important qualities to look for:
What to look for in responses?
Assuming your candidate passes the checklist, you should be looking for — detailed responses.
A candidate who is genuinely motivated will often express themselves in more words than someone who is not interested.
Finding detailed responses with many words and emotions is an indicator that someone is motivated and willing to do a good job.
Most importantly … It's best not to overthink it. Allow me to illustrate.
Alrighty. So, you've decided on a candidate.
Doing a trial run is great option.
Start by giving your candidate the resources to learn the rules of proper sign placement.
Then put your candidate to the test. Action speaks louder than words (another terrible but good cliché.)
It's time to put them up for a test run.
A test run will give you all the answers you need. Such as "Are they quick or slow", "Have they followed the rules of good sign placement?", "Have they placed the signs on schedule?"
When you're ready, tell them, "I want to give you a test run".
However, the problem is you're about to hand them over a pile of valuable bandit signs or yard signs.
Those signs cost money (sometimes several hundreds of dollars.)
If you give them your signs, how will you be confident your yard sign placer will be DOING the work?
Every person has thought about this … so they often ask their sign placer to text them the photos of each sign. Or even upload it in a google folder.
Yet it's slow, tiresome, and over time you won't even look at the photos they submit.
This is the better alternative.
1. Have them download SimpleCrew
(Yes it's a shameless promotion of our product.)
Explain how SimpleCrew works and is a superior alternative to text photos etc..
But it works for business owners doing yard sign marketing.
Give a decent number of signs. Enough that it justify their time working with you.
Order signs from your favorite yard sign vendor and have them shipped to your sign placer, (or even better, let your sign placers order it themselves 😉).
3. Give them the instructions -
Instructions can be added inside your SimpleCrew campaign folder. This can be as simple as picking a county or zip code to start with. Or you can paste in a google route map link into your campaign's description.
4. Have yard sign placers snap photos of each sign using the SimpleCrew mobile app.
Using SimpleCrew is like having a secret window to watch your sign placer doing his work in the present moment.
Photos appear as soon as they "snap" a photo. And you get special features such as the exact location and time they've placed each sign, which are necessary if you need signs to be placed within a specific date and time.
5. Pay them for the trial run
Our SimpleCrew reports make it easy to know the total number of signs placed from your sign placer, so you can quickly figure out how much to pay for their awesome work.
Some of our customers like to surprise their sign placers with a reward when their yard sign contributed to a successful deal.
And that's basically it.
Yep.
Seriously.
From here on out, there is little that you need to do.
You don't need to worry about your leads, calls, or sales tanking because of a bad apple.
There is no trust needed.
They can manage the campaigns themselves.
Most importantly, they do the work themselves.
Best of luck!