If you're looking to hire someone to post yard signs, then I have a job post template that is proven to get good sign placers in record time.
In fact, at the time of this writing, a recent subscriber has just
messaged us: "Your strategy worked! I already have 5 applicants to sort through".
To make things simple, I'll just show the template.
'Copy & Paste' This
Job Post Template
Use the job post template below.
And adapt it to however you like:

				
					SIGN PLACERS WANTED

Outdoor sign placers are needed.

A flexible schedule preferably works in the evening.

$15-20 an hour.

Start immediately.

Need a smartphone with data and the ability to download 1-3 apps and ability to take pictures.

Must be able to use a hammer tacker.

Must be able to get the job done each week.

Must have a reliable vehicle.

Applicant must be able to lift 50 pounds if signs are delivered to you.

Training will be provided.

Learn business while getting paid!

Open to delivery and rideshare drivers to get paid while out making deliveries and rides.
				
			
Now - follow the next 5 steps to create a job post on Craigslist.
When we're looking to hire sign placers, Craigslist works the best.
After all, it's the most popular website for finding part-time jobs and gigs.
Go to www.Craigslist.org
Click on the "create a posting" link on the main page. This will let you easily create a job post for an entire city to see.
The image below shows you where to find that link.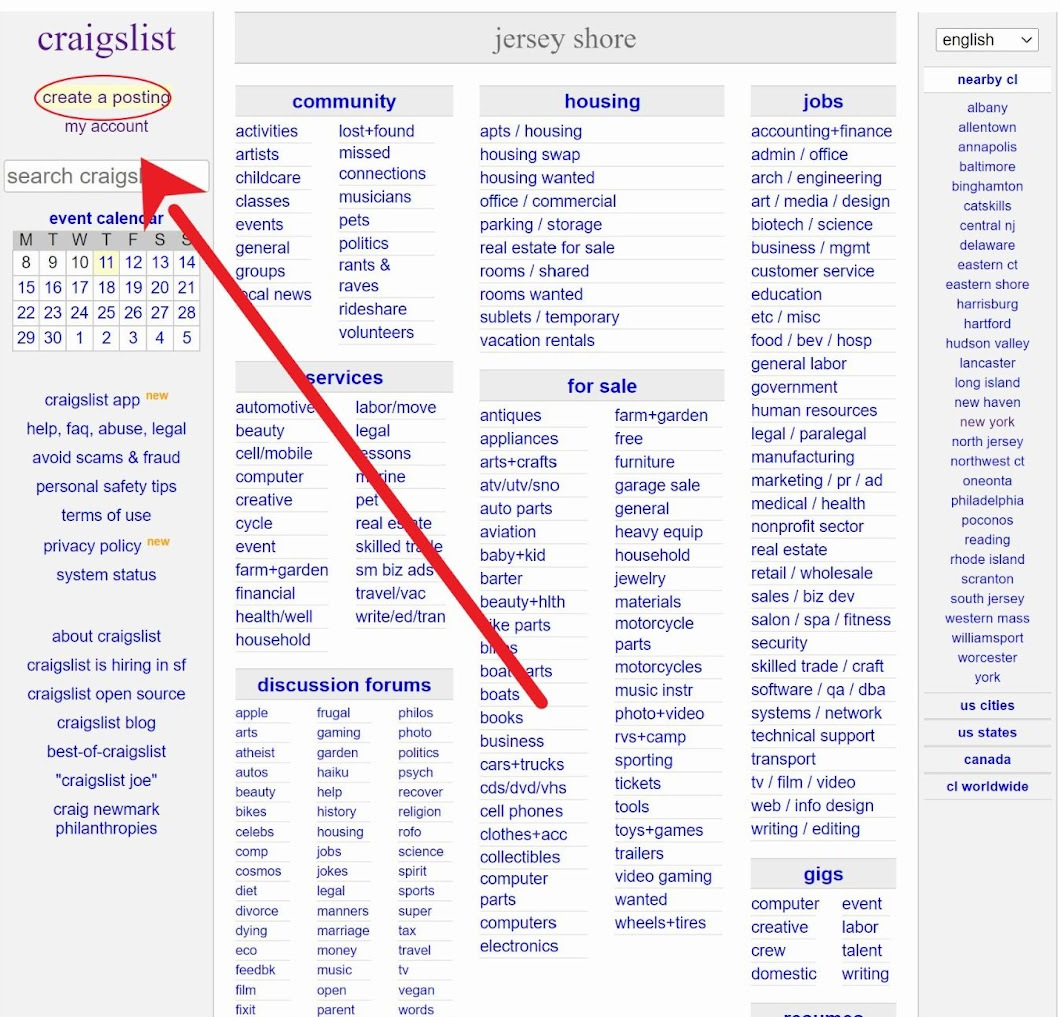 Select the "gig offered" option. It's the best option to choose when you're first starting out with Craigslist.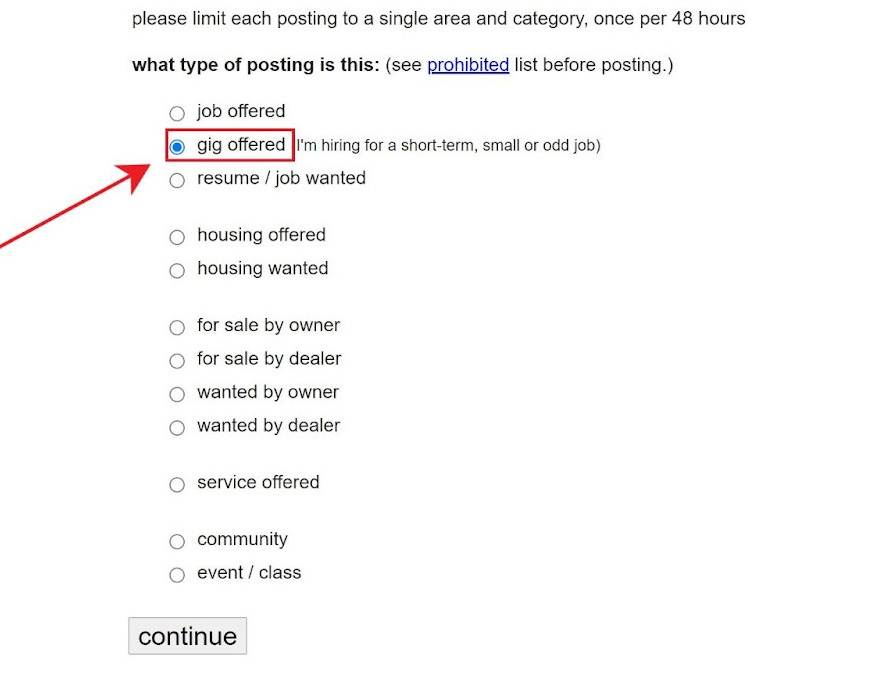 Then, choose either the "event" or "labor" option. From our experience, both of them can attract good sign placers and get you the best results.
Here is where you can finally use our "job post template". Just copy and paste the template into these sections: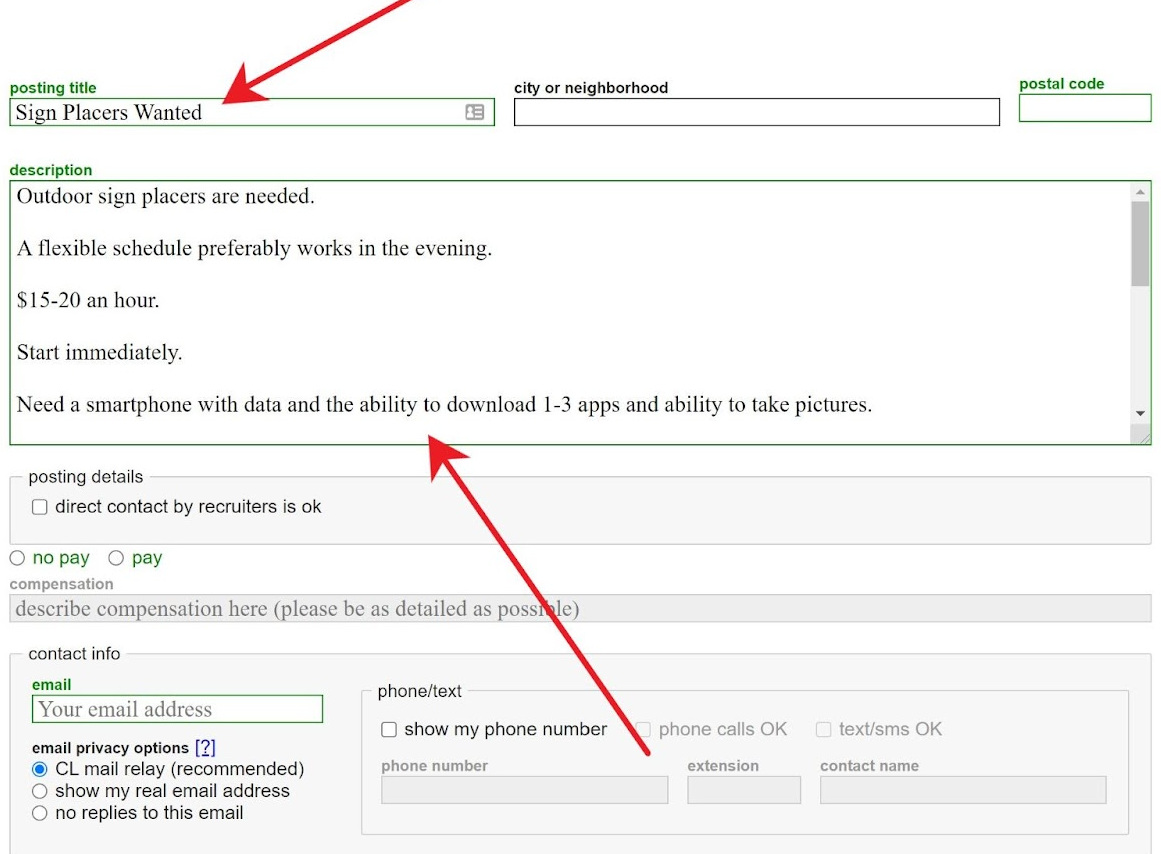 Once you finish filling out your personal details, you can submit the post.

You're done! 🙌

Sit back and watch the applicants roll in.
You see, posting a job on Craigslist is easy. 
And getting the applicants is also … easy.
The next challenge is WHAT to do once the applicants come knocking on your door.
For example, "will you hire the first person who applied to your job post!?"
Probably not.
That's why we dedicated an entire blog post on helping you navigate the hiring process after you have posted a job on Craigslist.
In this next post, you will learn:
How to interview applicants fast
3-point checklist to spot a good sign placer
How to systematize your yard signs 
So, if you're unsure what to do after you posted a job on Craigslist, go ahead and click the below:
How to Hire a Yard Sign Placer In Under 7.5 minutes
Enjoy!
Mike McCabe