Without results to track, self motivation is like swimming upstream.
As Ben Horowitz wrote in The Hard Things About Hard Things, "there are only two ways for a manager to improve the output of an employee: motivation and training." That probably comes as no surprise to business owners and entrepreneurs, but is much easier said than done.
After all, difficult and laborious tasks can make motivation hard to maintain–even among the most driven of individuals. This is where a little hack comes in handy: tracking. Deliberate, consistent, active tracking.
What makes tracking effective in pushing through limits and resistance points?
At SimpleCrew, we hear (and see first hand) how tracking can change the trajectory of a business. But what does that really mean? In reality, tracking is simply data. And much like any set of data, how you use it and what you use it to measure is more important than anything else. Afterall, too much data can be equally ineffective as no data.
At the end of the day, when we correlate tracking and motivation, the best way to look at it is through the lens of the individual. I found myself sinking into this realization when I experienced how beneficial tracking was in my personal life, particularly in the fitness arena.
1. Performance tracking inadvertently leads to performance enhancement.
Over the last two months, I have been swimming every single week. This is notable because my fitness regime is usually a bit more sporadic, and a lot less consistent (ha). Initially, I figured it was likely due to Olympics 2020 fever. But I've since realized that my new routine is actually due to the purchase of a new gadget.
I got an apple watch.
Somehow, I never knew how similar personal fitness tracking was in comparison to business tracking until I started using the watch. It is incredibly easy to track a workout with a few quick taps and swipes. Once I got past the initial hump of starting, tracking my workouts became as second nature as brushing my teeth.
In fact, it is more than second nature, it has become… dare I say it, addictive. After 2 months of consistent use, I can say with confidence that tracking my swims is the single most motivating element of my current workout routine. It keeps me going week in and week out.
I want to see what I can do. How many laps can I swim this week? How long can I swim for? The tracking gave me something to show for my workouts. It created a competitive drive within myself which motivated me to keep showing up, keep competing against myself, and keep attempting to do better than my last performance.
While the tracking itself gamified my swim experience, what got me hooked was the unexpected outcome. The results. While I didn't set out to swim every single week, the workout tracking kept me going again and again, and inadvertently led to better performance in my swims.
2. Reports highlight tangible results and showcase quantitative progress.
The more you track, the more you want to track. Ever since I began tracking my swim, I've been more consistent with my workout frequency. While I don't check the reports of my apple watch often, I can feel my excitement each time I do. 
Knowing that I have been pushing myself, feeling the level of motivation with my weekly swims, performance reports are like little gifts waiting to be opened. This is in sharp contrast to when I was inconsistent with my swims. Now, with the amount of tracking I've done, I eagerly look forward to seeing quantitative progress.
For example, in a recent peek into my performance, I compared two workouts roughly 6 weeks apart (June 10 vs July 20). Crazy enough, I not only swam 34% further– I also swam 30% faster. Seeing the results is about as motivating as it can get. Especially when it was an unexpected side effect of tracking.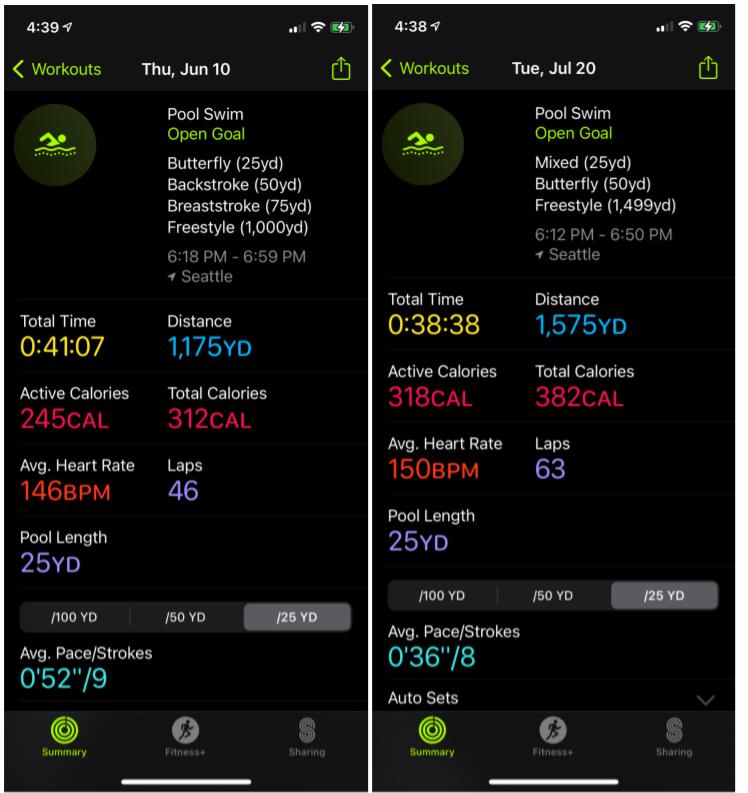 36.96% More laps
34.04% Further
22.44% More calories burned
30.77% Faster
3. Goal setting becomes easier when you know what is possible.
Goals can feel lofty and ineffective if they are either too hard to achieve or too easy to accomplish. The ideal goal is one that challenges you within reach, pushing you outside of your limits to what is possible, without making it too easy. Tracking helps establish these goals. 
Before I tracked with my apple watch, I had no benchmark or starting point. I wouldn't even know what a proper goal should be. I would swim without any intention of hitting a number of laps, or any amount of time. If I wanted to set a goal, I wouldn't be motivated to hit it if I didn't know I could accomplish it.
The data made available from tracking has made it easy for me to push myself. Since I've seen real numbers on what I can do, it creates an easy starting point for me.
The Key Takeaway
After experiencing the dramatic results from fitness tracking, it has become even more clear why tracking is so crucial to businesses. Much like in your personal life, business tracking requires two core elements. A device to do the tracking, and software to store the data and generate the reports.
You don't need to be an olympic athlete to do the same tracking that professionals do. The Apple watch is always on you, and it's easy to use. On that same note, you really don't need to be an enterprise business to track your field crew. Phones are always on your team, and using SimpleCrew is as easy as snapping a photo.
If you need more motivation to do grassroots marketing try simple tracking with photos using SimpleCrew